This file is \2\2html\2rzgift.html. Remove this line when replacing code with new html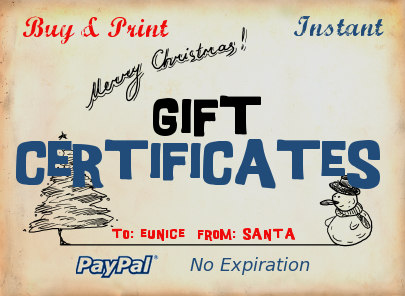 View Sample (opens in new window)
RustyZipper.Com's Gift Certificates by PayPal are easy to buy, safe and convenient. Here are some highlights:
Pay for RustyZipper.Com Gift Certificates securely with PayPal.
Send your RustyZipper.Com Gift Certificate via email, or print it out to deliver yourself. It's your choice.
Add a personal greeting that will appear on your Gift Certificate.
Recipients can redeem Gift Certificates by shopping our site and checking out using PayPal at any time
(no expiration date).
Emailing Gift Certificates: You have the option of sending your Gift Certificate the same day, or having the Gift Certificate automatically sent on a future date, up to 30 days following the certificate purchase.
Printing Gift Certificates: You can purchase a printable Gift Certificate for which an email address is not required.
We are not able to mail hard-copy Gift Certificates.