2 results - Page 1 of 1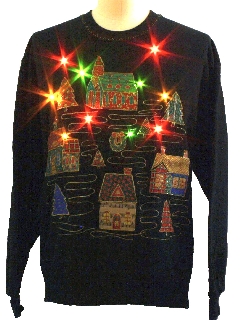 80s Unisex Lightup Ugly Christmas Sweatshirt
80s authentic vintage -Jerzees- Unisex black background cotton polyester blend pullover longsleeve multi-colored flashing lightup Ugly Christmas sweatshirt, round neckline with an applique design of a Christmas village embellished with gold glue paint. A small adornment high on the left shoulder of a wreath and two trees on back. Batteries included.
Item #:
234440
Condition:
Very Good
Fits:
39Bust W♀LRG or 39Chest M♂MED, 32Sleeve
Price:

55.00

SALE $53.00
---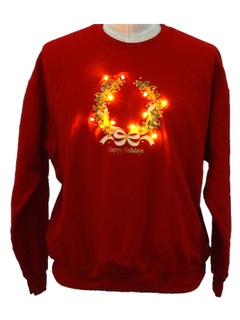 Unisex Lightup Ugly Christmas Sweatshirt
-Gildan- Unisex red background cotton polyester blend longsleeve pullover lightup ugly Christmas sweater, round neckline with an elegant wreath surrounded by gold beads and golden amber Christmas lights. The words -Happy Holidays- are humbly placed below the wreath.
Item #:
218883
Condition:
Very Good
Fits:
43Bust W♀XL or 43Chest M♂LRG, 32Sleeve
Price:

44.00

SALE $28.00
---
2 results - Page 1 of 1