2 results - Page 1 of 1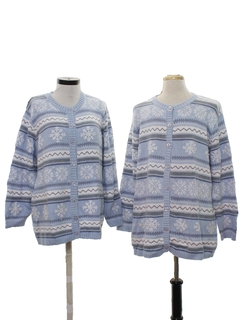 Womens Matching Set of Ugly Christmas Sweaters
-Cherokee- Womens pair of blue background ramie cotton blend button front long sleeve ugly Christmas sweater, round neckline with snowflakes. Minor pilling and toning on one of the sleeves on the larger sweater. Tall or oversized long fit. Perfect mom & daughter set!
Item #:
210246
Condition:
Good
Fits:
44Bust W♀XL, 30Sleeve,
AND 48Bust W♀2XL, 31Sleeve, Tall or Oversized Long Fit
Price:

69.00

SALE $51.75
---
Womens Matching Pair of Ugly Christmas Sweaters
-Tally Go- Womens pair of Matching Red background acrylic button front longsleeve ugly Christmas sweater, round neckline with Green threaded holly leaves along the neckline and along the front on each side of the buttons. Gold buttons. Red on back. Two small pockets in the front. Minor pilling and some loose threads.
Item #:
208705
Condition:
Good
Fits:
38Bust W♀LRG, 30Sleeve,
AND 38Bust W♀LRG, 28.5Sleeve
Price:

76.00

SALE $57.00
---
2 results - Page 1 of 1