3 results - Page 1 of 1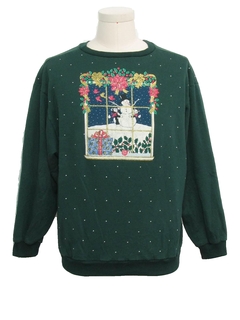 80s Unisex Cat-Tastic Ugly Christmas Vintage Sweatshirt
80s authentic vintage -Spumoni- Unisex green background cotton polyester blend pullover longsleeve Cat-Tastic Ugly Christmas Vintage Sweatshirt, round neckline with attached fold over collar featuring black and white cats looking out window upon a snowman and perched cardinals. Cats outside climbing on the snowman on back. Gold glitter window panes and ...(
more
)
Item #:
269914
Condition:
Good
Fits:
42Chest M♂LRG or 42Bust W♀XL, 30Sleeve, 27Inches from Shoulder to Hem
Price:

26.00

SALE $19.50
---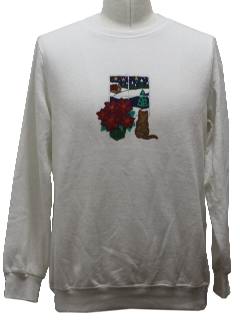 Unisex Ugly Christmas Sweatshirt
-Blair- Unisex white background cotton polyester blend longsleeve pullover ugly Christmas sweatshirt, round neckline with a kitten staring out a window at the snowy scenery, with a pot of poinsettias beside him.
Item #:
226454
Condition:
Very Good
Fits:
40Bust W♀LRG or 40Chest M♂MED, 32Sleeve
Price:

22.00

SALE $5.50
---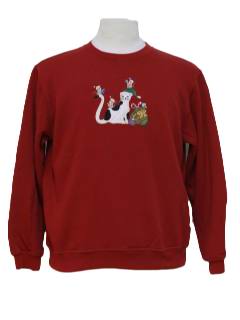 Unisex Ugly Christmas Sweatshirt
-Classic Elements- Unisex red background cotton polyester blend pullover longsleeve ugly Christmas Sweatshirt, double layered round neckline with a happy kitten enjoying some quality time with a mouse family design. Made for a woman but would work well on a man, just scrunch back sleeves if too short.
Item #:
206115
Condition:
Good
Fits:
42Bust W♀XL or 42Chest M♂LRG, 30Sleeve
Price:

24.00

SALE $18.00
---
3 results - Page 1 of 1