New items
Sale Items
Huge Dress Sale
Wholesale

Womens Sale Vintage Jackets



Use the below links filter and shop Womens sale stuff: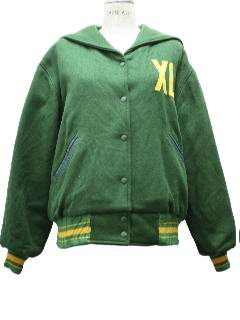 14529-M7621


1980's Womens Varsity Jacket
80s -Trophy Jackets- Womens green wool and leather trimmed varsity jacket. (Clearance sale - 75% off! reg $64.00)


Fits: To 44Bust (Womens XL)
Condition: Very Good Condition
Price: $16.00

4737-M3074


1980's Womens Jacket
80s -Hartwell- Nylon taffeta, black, gold, white, snap front womens embroidered racing jacket, Bartlett Racing (Sale - Regular Price $26) (Summer Clearance Sale! reg $18.00)


Fits: To 44Bust (Womens XL)
Condition: Good Condition
Price: $6.00
41 through 42 of 42 matches Results displayed as large photos (change to small photos), sorted by item popularity (sort by newest instead)


Current page (2) Jump to page:
1 2
Orders placed before 11:30am Pacific Mon-Fri, are shipped that day. After 11:30am, orders are shipped the next business day.
We ship US Orders via Ground, 2nd day, or Overnight Delivery. We also ship to most countries worldwide.
Shipping rates and options are shown upon adding items to your order.
Returns: We want you to love your purchase - if you don't, return it within 15 days for a refund (shipping not refundable)
Copyright 1995-2011 Rusty Zipper™ Vintage Clothing - Privacy Policy

Questions? View our Help Page or contact Jen at jen@rustyzipper.com


Phone 866-387-5944 in US, or 503-980-1929 outside US (Mon-Fri 8am-3pm PST)
UK (020) 3002-8263 (Mon-Fri 5pm-11pm London time)

Join our Facebook Group