New items
Wholesale
Costume ideas

Ugly Xmas Sweaters
Still time for Christmas (USA), but Hurry! Order within the next 20 hours, 38 minutes and your order will ship out tomorrow.
Overnight Saturday get it Saturday Overnight get it Monday 2-Day get it Tuesday
Occasionally, weather can cause a day of delay. Priority mail and UPS Ground are not guaranteed.


Womens 40s-50s Prom Dresses in Any Size
All
1940s
40s-50s
1950s
1960s
1970s
1980s
1990s
all
/
sale
/
new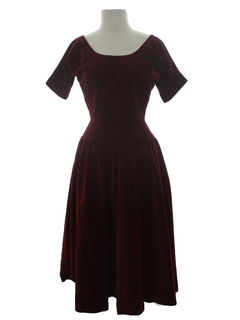 288374-M56556


1950's Womens Fab Fifties Designer Dress
50s -Anne Fogarty, designer- Womens maroon red background cotton velveteen, kimono short sleeve scoop neck and back cocktail dress, dart fitted with dropped waistline, gathered near circle skirt is lower calf length, back zipper closure (small whitish spo...(more)

Fits: 32.5Bust 23Waist FreeHip
Condition: Fair Condition
Price: $76.00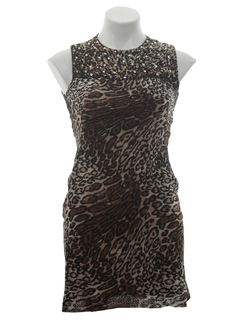 287496


1950's Womens Cocktail Wiggle Dress
Late 50s or early 60s -Eloise Curtis for David Styne- Petite Womens tan, white, black and brown leopard print background cotton blend sleeveless knee length cocktail dress. Round neckline, fitted waistline. Dress features beautiful faux black, taupe and w...(more)

Fits: 33Bust 26Waist 36Hip
Condition: Good Condition
Price: $125.00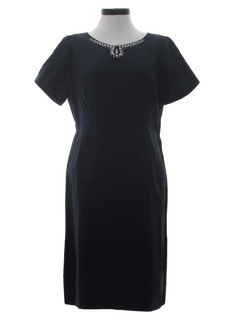 287412


1950's Womens Fab Fifties Cocktail Day Dress
50s -Young Viewpoint- Womens midnight blue background raw silk and cotton blend mid length, short sleeve semi-formal fab fifties day dress - dress this little cutie up with a shawl and hit the night, or rock it as is with subtle padded shoulders, beaded p...(more)

Fits: 40Bust, 34Waist, 44Hip, 41Inch overall length
Condition: Good Condition
Price: $90.00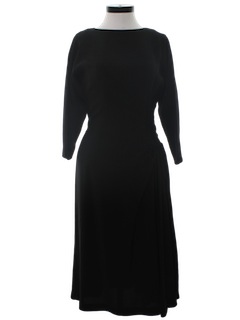 286808


1940's Womens Designer Little Black Cocktail Dress
Late 40s -Eisenberg Originals- Womens little black background mid length, rayon cocktail dress with tapered longsleeves, shallow boat neckline with dual buttons at rear neckline - leaving tear drop peek a boo at nape, gusset seamed underarms and double da...(more)

Fits: 34Bust 28Waist Free Hip 27Sleeve 46Inch overall length
Condition: Good Condition
Price: $215.00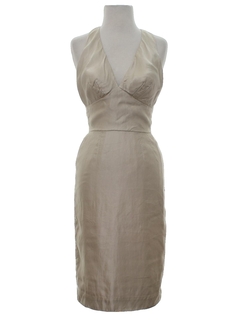 284774


1950's Womens Cocktail Wiggle Dress
50s -Cates- Womens gorgeous shimmery champagne silk blend sleeveless fully lined mid length cocktail dress. Wide banded high waist, inner bra for support, shaping darts, a back kick pleat, V-neckline, halter style with back hook and metal zip closures. Dr...(more)

Fits: 33Bust 24Waist 35Hip
Condition: Good Condition
Price: $125.00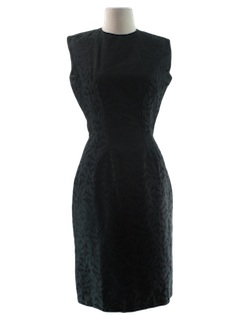 280879


1950's Womens Fab Fifties Little Black Wiggle Cocktail Dress
50s -Shana of California- Womens little black background rayon and cotton, floral jacquard fab fifties semi formal, tank cut cocktail dress with piped trim at rounded neckline, double darted waistline for a nice wiggle cut fit and flat hem seaming. Dress ...(more)

Fits: 34Bust, 26Waist, 38Hip
Condition: Good Condition
Price: $75.00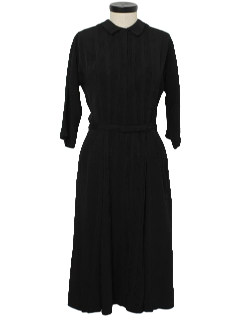 271363-A17159


1950's Womens Cocktail Dress
50s -R&K Originals- Womens black, rayon, mid-length dress, having cut-in-one longsleeves, which end below the elbow. A two piece fold over collar finishes the round faced neckline, with a zipper closing the center back. Rows of tiny tucks detail the cente...(more)

Fits: 36Bust 28Waist 38Hip
Condition: Very Good Condition
Price: $46.00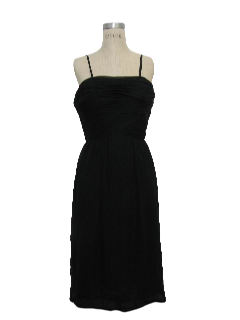 266719


1950's Womens Designer Fab Fifties Little Black Cocktail Dress
50s -Miss Elliette- Womens Designer black background rayon lined, semi-sheer knit silk overlaid mid length fab fifties cocktail dress with thin spaghetti straps, rear metal zip closure, horizontal pinch pleated upper bodice that ends at mid waist - then f...(more)

Fits: 34Bust 24Waist Free Hip
Condition: Very Good Vintage Deadtock Condition without Tag
Price: $125.00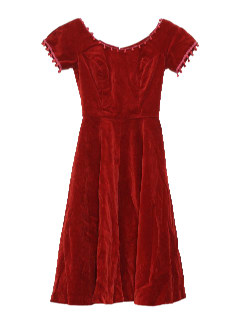 263332


1950's Womens Fab Fifties Cocktail Dress
50s -Lorrie Deb- Womens wine velvet, crinoline lined, mid length, fab fifties cocktail dress with rear metal zip closure, petite ball trimmed rounded neckline and short sleeve caps. Princess seaming and mid waist hem that falls to full skirt.

Fits: 30Bust to 32Bust 23Waist Free Hip
Condition: Good Condition
Price: $80.00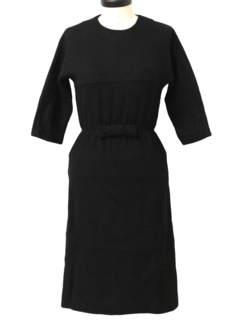 260824


1950's Womens Fab Fifties Little Black Semi Formal Cocktail Dress
50s -Size Label- Womens black subtle chevron weave soft brushed wool and cotton blend mid length fab fifties semi-formal evening/cocktail dress with rounded neckline, rear metal zip closure, elastic gathered mid waist seaming with oversized bow and horizo...(more)

Fits: 32Bust 24Waist to 28Waist 36Hip
Condition: Good Condition
Price: $75.00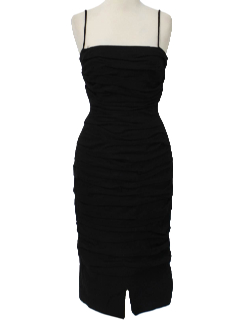 257391


1950's Womens Fab Fifties Little Black Wool Cocktail Dress
50s -Missing Label- Womens black background wool blend, tank cut fab fifties new look cocktail dress with squared neckline, rear metal zip closure, thin spaghetti straps and wiggle cut enhancing horizontal lay flat box pleating. Dress has modest front sli...(more)

Fits: 30Bust 27Waist 36Hip
Condition: Good Condition
Price: $85.00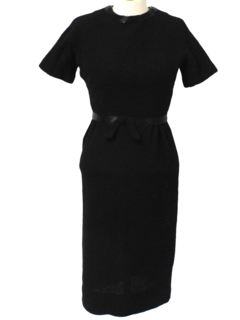 257382


1950's Womens Fab Fifties Little Black Wool Cocktail Dress
50s -Missing Label- Womens black background wool blend, short sleeve fab fifties new look cocktail dress with beaded trim along rounded neckline and again at bow accented mid waist seaming that falls to pencil cut, rayon lined skirt. Dress has rear metal ...(more)

Fits: 34Bust 26Waist 38Hip
Condition: Very Good Condition
Price: $85.00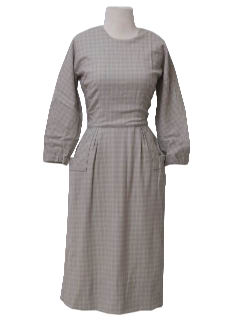 251672


1950's Womens Fab Fifties Wool Dress
50s -Missing Label- Womens grey background wool blend, nylon lined, mid length fab fifties semi-formal dress with rounded neckline, back metal zip closure, gusset seaming at three quarter length sleeves, double darted bust and mid waist styling that falls...(more)

Fits: 36Bust 28Waist 42Hip
Condition: Very Good Condition
Price: $85.00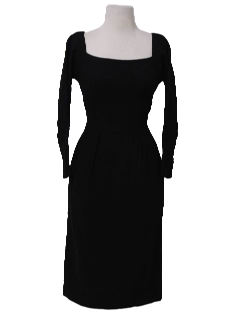 251671


1950's Womens Fab Fifties Little Black Wiggle Dress
50s -Missing Label- Womens black background wool blend, mid length semi-formal wiggle cut cocktail dress. Dress has squared neckline, back metal zip half placket, taper cut longsleeves with wrist vents and raglan seaming. Panel banded empire bust with dar...(more)

Fits: 32Bust 26Waist 38Hip 26Sleeve
Condition: Very Good Condition
Price: $115.00
247773


1950's Womens Fab Fifties Cocktail Dress
50s -Missing Label- Womens off white background floral jacquard satin, nylon blend broadcloth floor length fab fifties cocktail dress with double banded tank straps, pinch pleated gusset style upper bodice, side metal zip closure and banded empire waistli...(more)

Fits: 32Bust 26Waist Free Hip
Condition: Good Condition
Price: $150.00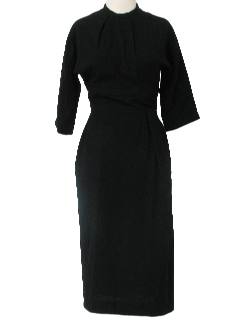 225209


1950's Womens Wool Fab Fifties Wiggle Day Dress
early 50s -A Mar Tee- Womens little black wool gabardine mid length wiggle cut semi-formal dress with rounded neckline that drops to inverted diamond pleats down bust, back metal zip closure, darted three quarter length sleeves and double banded mid wais...(more)

Fits: 32Bust 24Waist 36Hip
Condition: Very Good Condition
Price: $120.00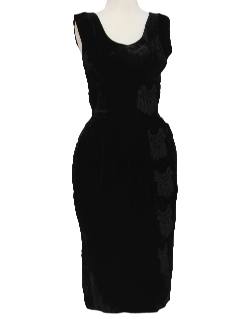 213370


1950's Womens Wiggle Cut Cocktail Dress
50s -Size Label- Talk about the ultimate little black wiggle cut cocktail dress. This velvet mid length, tank cut head turner is sure to impress with its rounded neckline, up dart bodice, and banded empire waistline. It has back metal zip closure and off ...(more)

Fits: 34Bust 26Waist Free Hip
Condition: Very Good Condition
Price: $275.00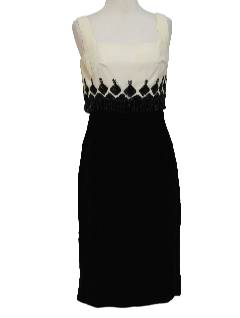 210949


1950's Womens Wiggle Cocktail Dress
50s -MardiGras New York- Womens black and cream mid length tank cut velvet and nylon blend designer wiggle cut cocktail dress. Back metal zip closure, squared neckline, darted bust and drop bodice with black beaded trim that falls to hourglass cut and end...(more)

Fits: 32Bust 28Waist 36Hip
Condition: Very Good Condition
Price: $175.00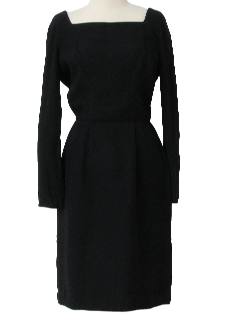 210940


1950's Womens Little Black Cocktail Dress
50s -Union Label- Womens little black nylon lined wiggle cut cocktail dress with squared neckline, back metal zip closure, snap secured cuffs at base of long taper cut sleeves, piped empire waistline and snug fit a-line skirt with box cut flat hem.

Fits: 34Bust 25Waist 38Hip
Condition: Good Condition
Price: $75.00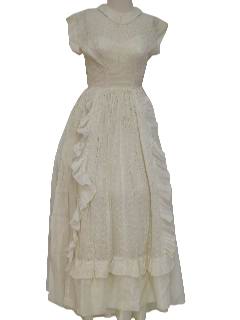 210008


1940's Womens Cocktail Dress
40s -Fred Perlberg- Womens off white cotton blend floor length cocktail designer dress with eyelet lace overlay along bodice, thin fold over peter pan collar, open back with lower metal zip closure, short cap sleeves and empire waistline that falls to ful...(more)

Fits: 32Bust 24Waist Free Hip
Condition: Good Condition
Price: $190.00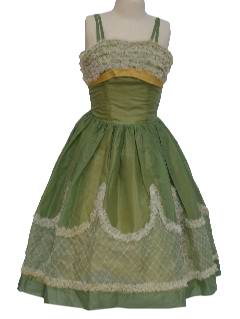 210004


1950's Womens Cocktail Dress
50s -Missing Label- Womens sage green, white and dusty yellow mid length nylon blend formal mid length, tank cut new look cocktail dress with ruffled bust, banded yellow under bust accenting, princess seaming and empire waistline that drops to full skirt....(more)

Fits: 30Bust 26Waist Free Hip
Condition: Very Good Condition
Price: $180.00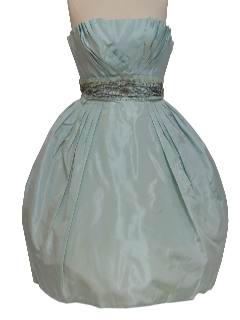 210002


1950's Womens Cocktail Dress
50s -Missing Label- Womens shark skin aqua marine nylon blend mid length sleeveless new look cocktail dress. Pinch pleated cross over bodice with beaded empire waistline, back metal zip closure and deep pleated full crinoline lined skirt with relief panel...(more)

Fits: 30Bust 24Waist Free Hip
Condition: Very Good Condition
Price: $215.00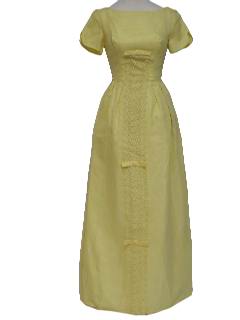 209835


1950's Womens Cocktail Dress
50s -Missing Label- Womens sunshine yellow nylon and polyester blend floor length, short sleeve cocktail dress with flirty boat neckline, back metal zip closure, empire waistline with thick pinch pleated full skirt and just under bust down seam banded lac...(more)

Fits: 28Bust 22Waist Free Hip
Condition: Good Condition
Price: $75.00
209741


1950's Womens Cocktail Dress
Early 50s -Missing Label- Womens little black rayon mid length wiggle cut cocktail dress with rounded fold over cross over collar with bow fall at left bust, three quarter length sleeves, side metal zip closure and empire waistline that falls to casual hi...(more)

Fits: 34Bust 28Waist 40Hip
Condition: Good Condition
Price: $65.00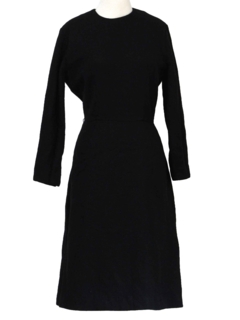 195746


1950's Womens Wool Cocktail Dress
50s -Jonathan Logan- Womens little black wool mid length, longsleeve cocktail dress with rounded neckline, double darted bust, back metal zip closure and empire waistline that drops to pinch pleated a-line skirt. Dress has metal zip cuffs at base of taper...(more)

Fits: 36Bust 28Waist 44Hip
Condition: Good Condition
Price: $75.00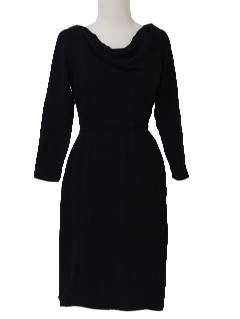 195610


1950's Womens Cocktail Dress
50s -Russell Berens- Womens classic little black rayon blend mid length, longsleeve cocktail dress with slouch cut boat neckline with drop pleat falls from shoulder seams, low cut back with replaced zip closure. Dress has thin piped empire waistline that ...(more)

Fits: 30Bust 23Waist 36Hip
Condition: Very Good Condition
Price: $89.00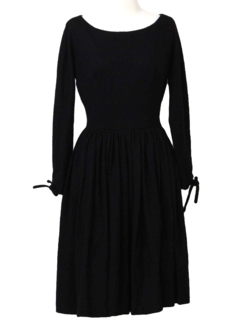 193429


1950's Womens Wool Cocktail Dress
50s -Anne Fogarty Designer- Womens little black mid length wool cocktail dress with boat neckline, back metal zip closure, double darted bust with princess seaming that drops to thick pinch pleated empire waistline with full skirt below that would look gr...(more)

Fits: 32Bust 26Waist Free Hip
Condition: Good Condition
Price: $120.00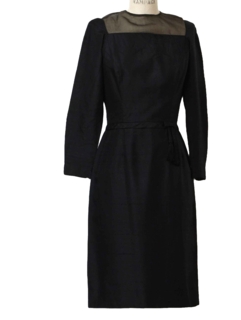 190101


1950's Womens Cocktail Dress
50s -Missing Label- Womens little black mid length raw silk flame stitch look wiggle cut cocktail dress with sheer knit upper bust, rounded neckline, back hook tab/metal zip closure and tapered longsleeves that end in single snap cuffs. Princess seaming d...(more)

Fits: 34Bust 28Waist 38Hip
Condition: Good Condition
Price: $120.00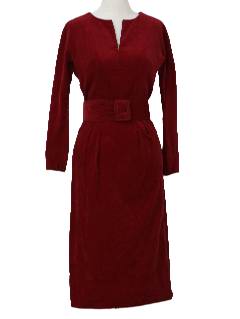 189494


1950's Womens Cocktail Dress
50s -Home Sewn- Womens maroon velvet mid length, long sleeve cocktail dress with notched v-neckline, back metal zip closure, double darted bust and self fabric belt at empire waistline that drops to four deep pleated pencil skirt. Back hem features single...(more)

Fits: 30Bust 23Waist 38Hip
Condition: Good Condition
Price: $75.00
| | |
| --- | --- |
| | |