Shipping Information: Costs, Delivery Times, etc.
Orders shipped out within 1 business day
We ship daily, Monday through Friday. If you place your order before 11:30am Pacific Time on weekdays, it ship out the same day. After this time, it will ship out by the next Business Day.
Shipping Methods
In the USA, we offer shipping via USPS Priority Mail, UPS Ground, UPS 2nd Day and UPS Overnight.
Outside the USA, we offer shipping via USPS International Air (under 3lbs), USPS International Priority Mail, or UPS Express.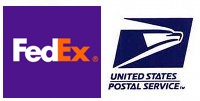 Shipping Costs
Shipping costs are based on the weight of your order and your location. When you add an item to your shopping cart, you'll be prompted to enter your country and postal code. After doing so, all shipping options with delivery times and costs will be displayed.


Example of shipping options displayed in shopping cart
We're based Oregon, the land of no sales tax. We will not charge you US state sales tax on any order.
We Ship Worldwide
We are based in Oregon and ship to many countries worldwide:
United States, Australia, Austria, Belgium, Belize, Brazil, Bahamas, Barbados, Canada, Chile, Costa Rica, Czech Republic, China, Denmark, Finland, France, Germany, Great Britain, Greece, Grenada, Hong Kong, Iceland, India, Ireland, Israel, Italy, Japan, Jordan, South Korea, Kuwait, Liechtenstein, Luxembourg, Mexico, Monaco, Netherlands, New Zealand, Norway, Oman, Poland, Portugal, Qatar, Saudi Arabia, Scotland, Singapore, South Korea, Spain, Sweden, Switzerland, Taiwan, United Arab Emirates, United Kingdom
International (outside US) Taxes, Duties, Customs Charges
Shipments outside of the US are subject to local taxes, duties and customs charges. We list all items as merchandise with the invoice value.
Taxes/VAT and Customs/Duty Charges can add 15-40%+ to the cost of your order and many countries do charge duties and taxes on the shipping charges themselves.
To calculate approximate taxes and customs charges to your country, we recommend www.dutycalculator.com
From our experience, customers choosing USPS often tend to pay lower fees than those selecting UPS.
Contacting Us
You may find answers to your questions here.
Please feel free to email us at jen@rustyzipper.com.
We can generally be reached by phone between 9am & 3pm Monday through Friday:
Phone 866-387-5944 in US, (020) 3002-8263 in the UK,
or 1-503-980-1929 elsewhere